INSTRUMENT ASSISTED SOFT TISSUE MOBILIZATION IN LAKEVILLE MN

Instrument Assisted Soft Tissue Mobilization (IASTM) is a non-invasive therapy tool used to treat patients diagnosed with a variety of soft tissue injuries and dysfunctions. In the hands of a skilled clinician, this soft tissue therapy uses specially designed stainless-steel tools to reduce pain, improve range of motion and increase motor function. IASTM is a rapidly growing therapy in Lakeville, MN due to its efficiency and effectiveness.
---
HOW DOES IT WORK?
The specially designed tools allows the clinician to locate and reduce areas of soft tissue fibrosis, adhesions or scar tissue in the fascia surrounding muscles and tendons. The tool is used to apply a directional force, stimulation the healing process through an inflammatory response and production of new collogen resulting in remodeling of the affected soft tissue structures.
---
WHAT CAN I EXPECT DURING THE TREATMENT IN LAKEVILLE MN?
IASTM treatment usually lasts 10 minutes. An emollient is placed on the area of treatment to reduce friction on the skin. Depending on the location and condition some patients may experience mild discomfort, but for most patients the treatment is pain free.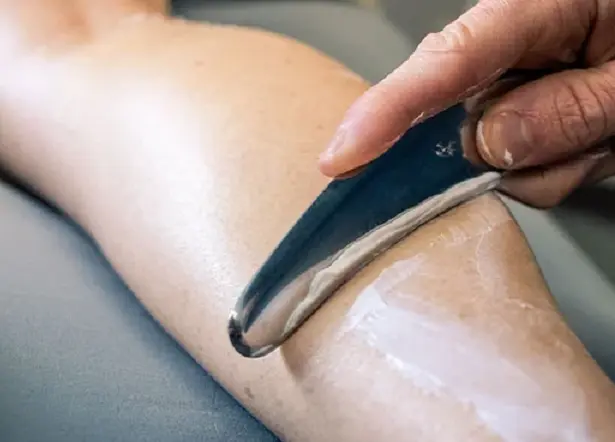 ---
WHAT CAN I EXPECT AFTER THE TREATMENT?
IASTM may or may not result in what is called petechiae. Petechiae is a bruise like feature similar to what occurs after cupping and usually lasts a few days. This is just a side effect of the treatment and part of the healing process.
---
WHAT ARE COMMONLY TREATED CONIDTIONS?
Neck Pain
Back Pain
Sprain/Strains
Sports Injuries
Achilles Tendinitis
Tennis Elbow (Lateral Epicondylitis)
Golfer's Elbow (Medial Epicondylitis)
Rotator Cuff Tendinitis (Shoulder pain)
Plantar Fasciitis (Foot Pain)
Shin Splints
Patellofemoral Disorders (Knee Pain)
IT Band Syndrome
Chronic Ankle Sprains
DeQuervain's Syndrome
Scars (Surgical and Traumatic)
Trigger Finger
and more!
Instrument Assisted Soft Tissue Mobilization (IASTM) can be performed as a solo therapy or in addition to any of the other treatments provided in the clinic. If you would like to schedule an appointment for IASTM therapy, click here.
OFFICE HOURS
---
Monday
9:30am - 12:00pm
3:00pm - 6:00pm
---
Tuesday
9:30am - 12:00pm
3:00pm - 6:00pm
---
Wednesday
9:30am - 12:00pm
3:00pm - 6:00pm
---
Thursday
9:30am - 12:00pm
3:00pm - 6:00pm
---
Friday
9:30am - 12:00pm
3:00pm - 6:00pm
---
Saturday & Sunday
Closed