Salted Cashew Energy Bites
Salted Cashew Energy Bites Recipe in Lakeville MN

I usually go with just 1 little ball for a quick snack while I'm on the go, but I think 2 would set you up nicely as a satisfying snack option that won't leave you feeling hungry 10 minutes after you chow down. If you're looking for an energizing snack in Lakeville MN give this recipe a try!
1 ball = 210 calories, 28g carb, 9g fat, 5g protein
1 serving = 2 balls = 421 calories, 55.5g carb, 18g fat, 10.5g protein
A Healthy Recipe In Lakeville MN
Servings: 8
Prep/Cook time: 15 minutes
Ingredients
2.5 cups, Gluten-Free Rolled Oats
1.5 cups, Cashews
0.5 cup, Walnuts
1 cup, Dried Cranberries
1 TBSP, Flax Seeds
0.5 TBSP, Cinnamon
1 tsp, Sea Salt
6 TBSP, Pure Maple Syrup
2 tsp, Vanilla Extract, Organic
Directions
Place 1 cup of the cashews + 0.5 cups of walnuts in a food processor and process until nut butter forms, about 5 minutes.
Scrape the sides of the bowl, and add the maple syrup, vanilla, cinnamon, and sea salt. Process until you have a good mixture going, being sure to scrape the sides and bottom of the bowl as often as needed.
Add all of the oats, the remaining cashews, flax seeds, and dried cranberries. Use the pulse setting of your food processor to chop and combine. I'd say 10-15 pulses.
Transfer the mixture to a large bowl and use your hands or a spoon to make sure you have a consistent texture throughout.
With slightly wet hands, shape 1 heaping tablespoon portion of the mixture into balls. You can store it in the fridge for up to 1 week.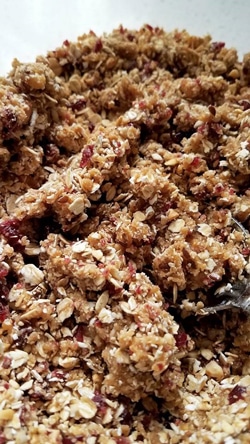 OFFICE HOURS
---
Monday
9:30am - 12:00pm
3:00pm - 6:00pm
---
Tuesday
9:30am - 12:00pm
3:00pm - 6:00pm
---
Wednesday
9:30am - 12:00pm
3:00pm - 6:00pm
---
Thursday
9:30am - 12:00pm
3:00pm - 6:00pm
---
Friday
9:30am - 12:00pm
3:00pm - 6:00pm
---
Saturday & Sunday
Closed